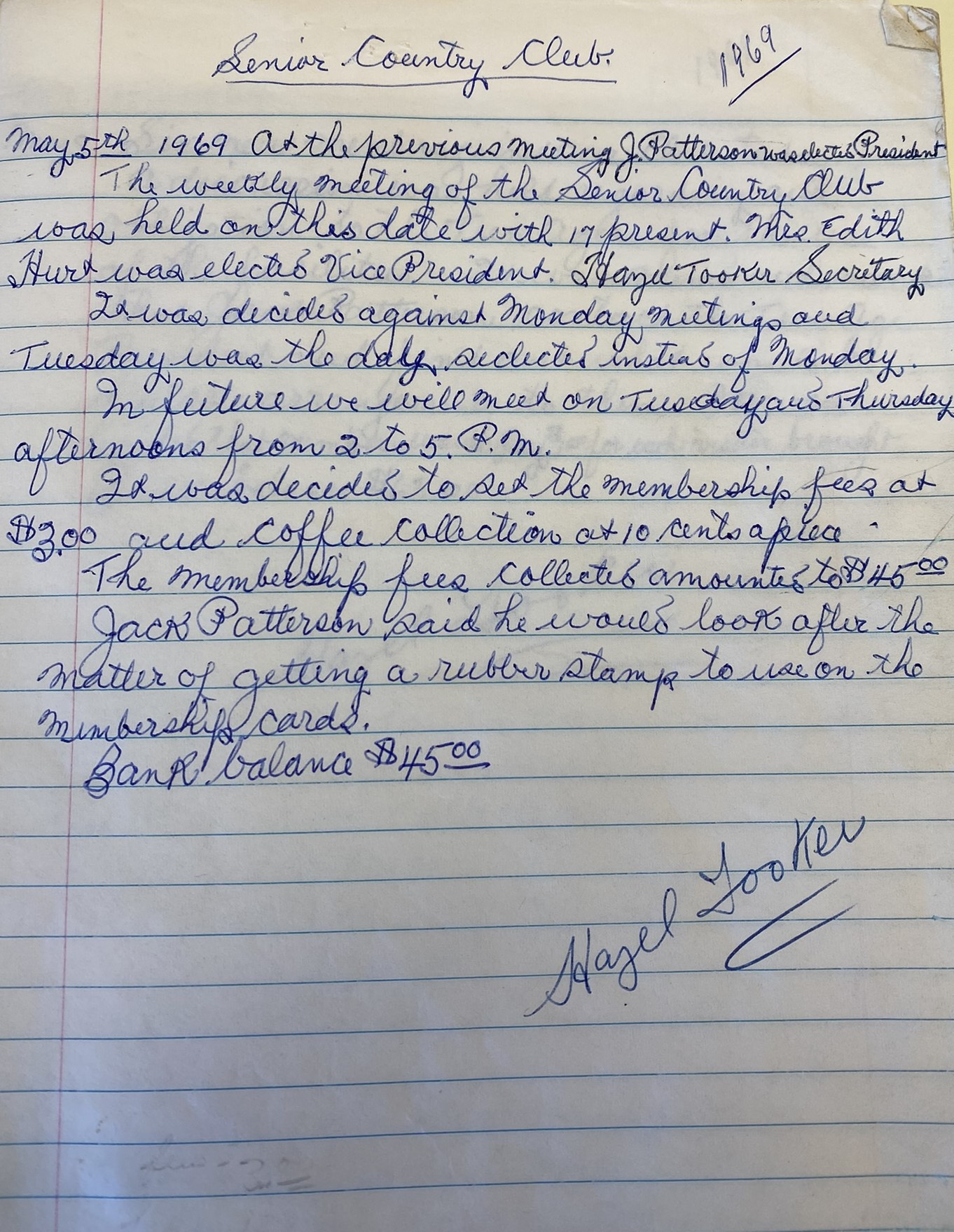 Minutes from first meeting May 5 1969
Summary of the Minute Book for the first year: May 5 – Dec 11, 1969
The club held meetings twice a week on Tuesdays and Thursdays, which were open to all members. The number of members present varied from 11 members in the summer months to 22 in the fall. On May 5, the VP and Secretary were elected. On May 13 a president was elected. Membership fees were set to $3, coffee was $.10, and pool was $.25 for each game that four players played. Fees collected up to May 5 was $45, which represented the balance in the bank.
On May 13 the club decided to put all members names into a box and each day two names were drawn to make coffee and clean up at the next meeting.
The club shared space with the Teen Club in the Creamery building and paid $4 per month for use of the facility. In June a board of 6 directors were appointed to meet with the Town Council and the Teen Club to discuss a new location for meetings in September.
A float was put in the Sports Day parade and a card party was held in late June.
The club directors met with the town's Recreation Board regarding the building of a Drop-In Centre in August. It was not approved. The Town decided the money was to go to recreation at schools. The Handicraft Club offered the use of their facilities at the east end of the curling rink and the Seniors Club offered them $20 per month. The deal was accepted, and the Handicraft Club wrote up a contract for September 1. The club now had more room for activities and a new pool table and shuffleboard were purchased from donations made by members and monies from the club.
At the December 9th meeting the club voted and passed a motion that the two members in charge of making coffee and clean up were now responsible to bring lunch. A Christmas supper was held at the United Church. The Dec 9 bank balance was $146.21.
Okotoks & District Seniors Club History Scrapbook 2009

Years
Presidents
Vice Presidents
Past President
Secretary
Treasurer
Other Directors
1999-2000
Ed Poffenroth

Marguerite Cram

Laura Haywood
Shirley Titus

2001-2002
Marguerite Cram
Bill Thompson
Stella Beierbach
2003-2004
Bill Thompson
Syd Mitchell
Marina Payne
Helen Bolkhart
2005-2006
Syd Mitchell
Bernie Giesbrecht
Lois Little
2007-2008
Bernie Giesbrecht

Mel Knapp
Laura McTavish
Walter Voth
2009-2010
Gary Edwards
2011-2012
Mel Knapp
2013-2014
Allen Jenkins
2015-2016
Andy Rivey
2017-2018
Elida Raynor
2019-2020
Ed Thom
2021 - 2023
Sharon Anderson
Bev Seitz
Ed Thom
Linda Bellward
Allen Jenkins
Pauline Gareau
Gillian Howarth
Allan Mayer
Al Zanderbelt

2023 - 2024
Sharon Anderson

Bev Seitz

Jennifer Marion
Allen Jenkins

Pauline Gareau
Colin Jamieson
Alana Newton
Al Zanderbelt